Golf
Surrounding the Firehall and Community Hall is the Par 3 Golf Course called the "Fireman's Fairway". This 11 hole par 3 course has been operating since 1994, after a brainstorming session at a chilli pot luck at the hall, when a few dedicated volunteer firemen, under the direction of Fire Chief Bill Margetts, took the project of constructing the course under their wings. Since that time the course has undergone upgrades and grooming to make it a jewel in the golfing community.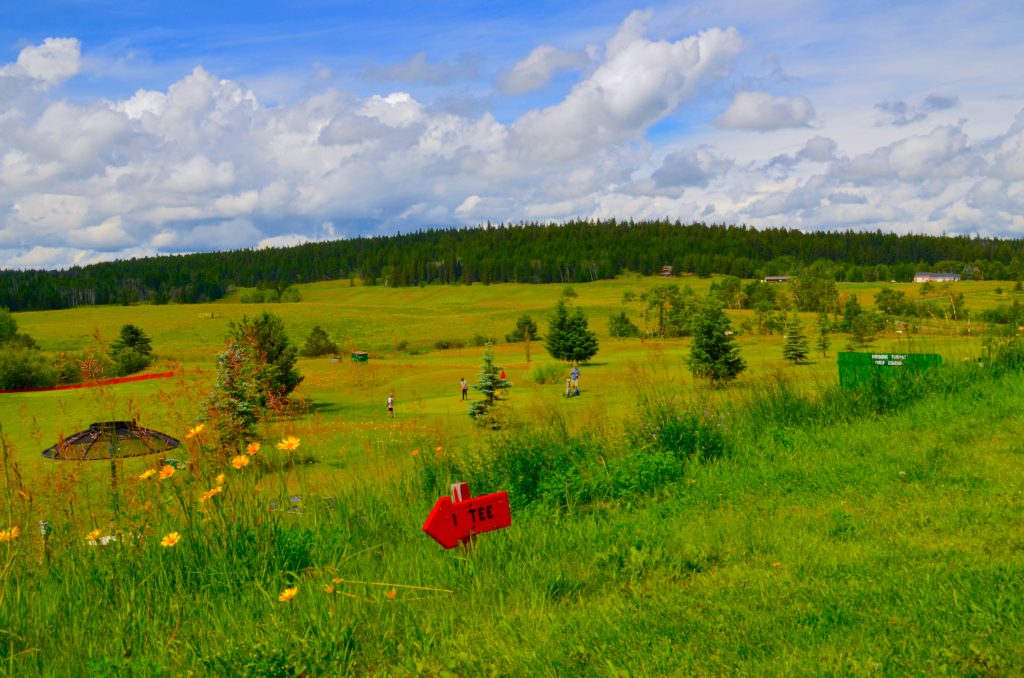 Camping
Only 30 minutes away from Williams Lake, both Chimney & Felker Lake offers something for everyone. You can swim, stand-up paddleboard, kayak, fish, power boat, golf, disc golf, water ski, hike and bike – or simply relax with a picnic on the beach. If you enjoy birds, this area is also know to be one if the best bird watching destinations. There are a variety of family friendly activities to choose from.
Camping at Chimney and Felker lake is a great way to immerse yourself in the stunning Cariboo scenery and enjoy the simplicity of camp living.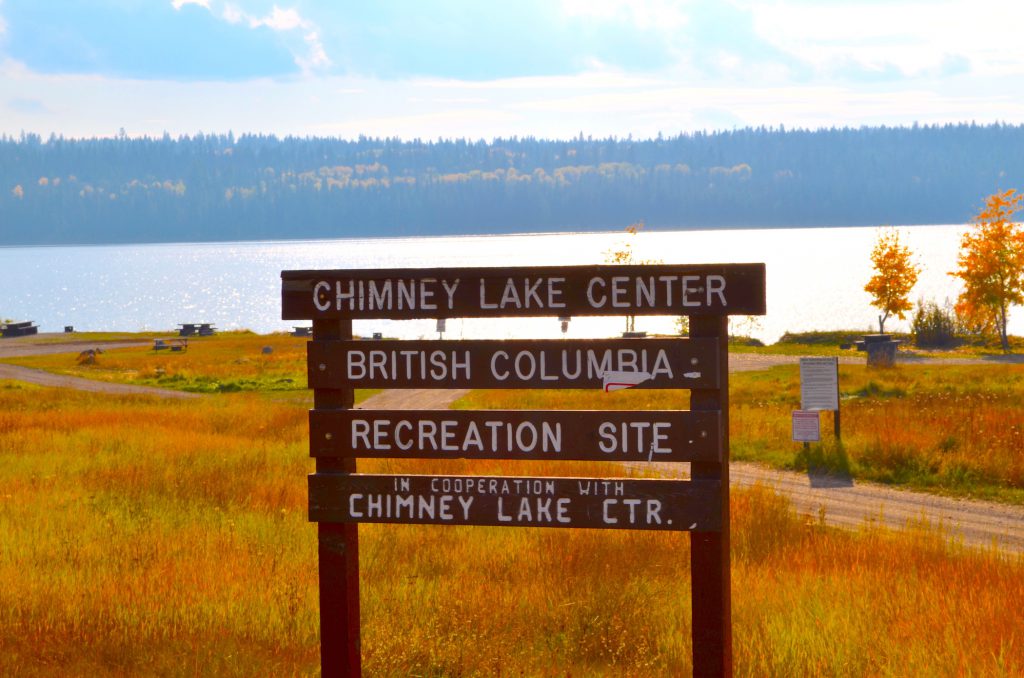 Biking / Hiking
Chimney lake has a fun network of trails for the family to explore. Majority are wider all- mountain trails that follow the ridge system above the lake. Download the free app Trailforks for detailed trail maps.
These trails can be accessed by parking on Aspen Place Rd. Then, head on over to the Big Fir tree that has the trail map on it. After a short climb uphill you will arrive up onto the bench where a series of loops are possible. The downhill ride back is fun for all riders.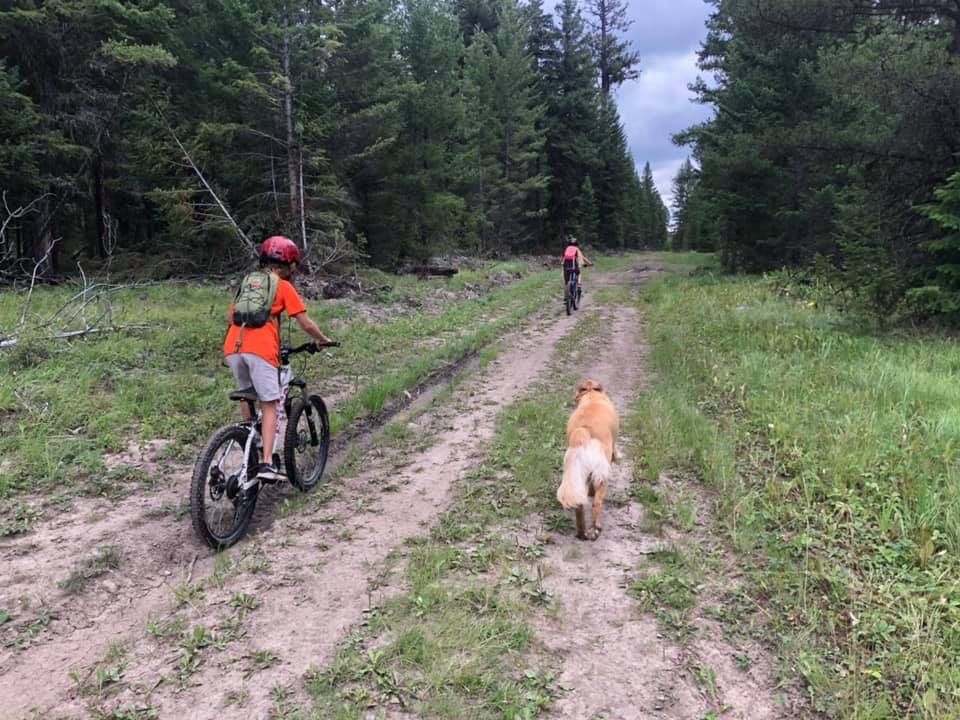 Disc Golf
Disc golf is a flying disc sport where players throw a disc at a target, using rules similar to golf. Players complete a hole by throwing a disc from a tee area toward a target, throwing again from where the previous throw landed, until the target is reached.
Located across from Blackwell Rd on Chimney Lake. Here you find an incredible 18 hole dynamically designed disc golf course that was created by Lars Bjorklund. Tight fairways, technical shots and great views~ Fun is all but guaranteed in this safe, easy-going sport that's for the "hole" family. No charge for playing (or parking) and no restrictions on playing times. All you need to pack is your trail runners and your discs.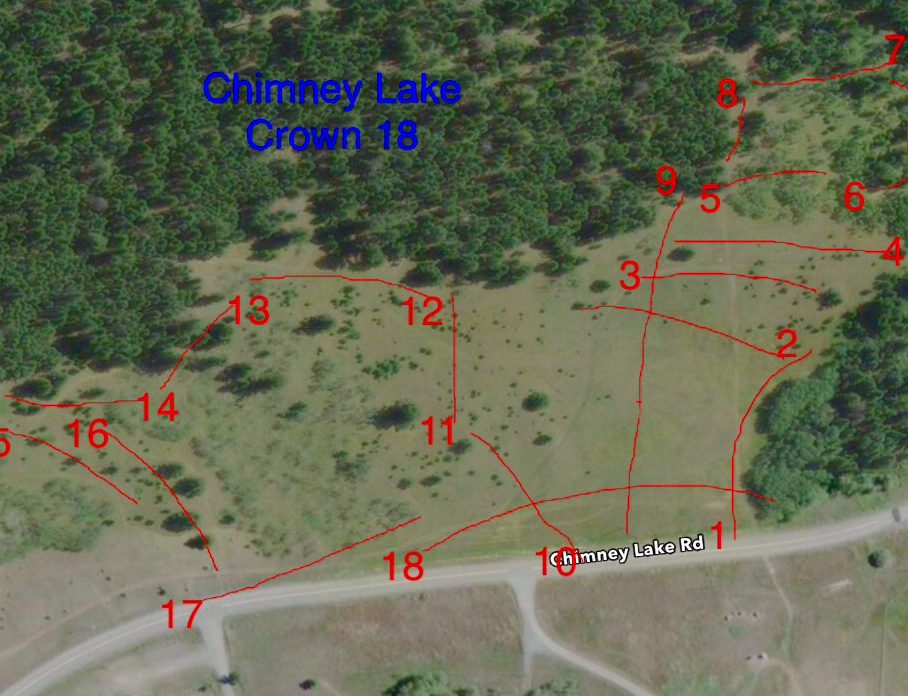 Fishing at Chimney Lake
Whether you're baitcasting, spinning or fly fishing, your chances of getting a bite here are good. Grab your favourite fishing rod and reel, and come on out to Chimney Lake.
Before you head out, make sure that you have your provincial freshwater Fishing Licence.
For additional fishing tips, check out this incredible information provided by a local resident, Russ Bobrowski.
"Chimney Lake is stocked regularly with both rainbow trout and kokanee."
"The kokanee fishery has become quite popular in the winter months. Look for anglers fishing in front of the most western Recreation Site. Fish are often in 20 to 60 feet of water, but are caught suspended in the water column, often 5 to 25 feet down from the ice. Fish finders are very helpful. Fish can be in very specific locations and successful anglers often fish close together. Don't be afraid to move into areas after people have caught their fish and head home. The most common lure is a flasher (a three to five inch spoon) with a small jig (3/4 inch long teardrop) tied to a 8 to 18 inch leader. Maggots or corn are popular baits and really improve catch rates. Although the western recreation site is popular, ice anglers have been successful in other parts of the lake including the middle and eastern portions of the lake. Once you have figured out how to catch kokanee it can be nice to find your own spots in other areas."
The kokanee fishery in the ice free months is not as popular, but offers great fishing to those who have figured it out. A good lure is a 4 inch Lurn Jenson Dodger with an Apex Kokanee Special, Small Dick Knight, or hoochie behind it. Bait increases your odds with maggots or corn being good bets. Its important to change your fishing depths until you find kokanee. Early in the year kokanee are shallow and move deeper as the season progresses. July is often a great month and fish are often 20-40 feet down from the surface. Downriggers or lead core line are great ways to get your lure in front of kokanee. Once you find the fish, keep circling as kokanee are often in schools.
Fishing for rainbow trout has not been great in the recent past, but seems to have improved in spring 2020. Small fish around 30 cm have been plentiful on the southern shoreline and around the islands in the East end. Fish have also been caught of docks. These fish have been aggressive with small spoons, spinners, and gang trolls being effective. Rainbow Trout from the Horsefly River have been experimentally stocked into Chimney Lake. These fish have the potential to reach very large sizes and eat other fish. They have tags attached to their dorsal fish with rewards of up to  $110 for lucky anglers who capture them. Tags can be cut off if you wish to release the fish, which is suggested to allow the fish to reach large sizes."
– Russ Bobrowksi
Nordic Skiing
Chimney lake has a large network of classic nordic skiing options. This low-impact sport is popular with locals and visitors craving fresh air, epic scenery and a full-body cardio workout. Trails may or may not be groomed, so prepare from some fun trail blazing.
Take it easy with a nice ski on the lake, choosing how far you want to go as you glide upon a flat wide open terrain. You can access the lakes using any of the provincial campground sites.
OR… kick it up with a thigh-burning climb into a diverse Fir Forest, connecting and repurposing old logging trails above the lake. Once you are at the top of the ridge you will find trails that are flat, straight and wide (Howl) and some that are tighter and have rolling hills to add challenge (Shipwreck). The loop called "Chimmey Fire" is a great recommendation. All these trails can be accessed by parking on Aspen Place rd and the network climbs from the Big Fir tree with a trails map on it. True to the original lineage of wider skis and stiffer boots—you'll find an array of cross-country ski trails for every ability.
Trailforks is a free app and all the trails are on it. For early and late seasons, Fat Biking opportunities on this network are great too.